Jenna's Angel Day-January 11th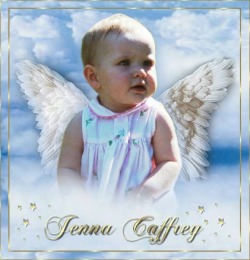 January 2017- Fourteen years. How can that be? A lifetime ago, and just yesterday. I still hear that sweet little voice in my ear; and feel her love surround me always. When my heart is especially aching, I remember a very special moment we shared. A few months before Jenna died, she had fallen and hit her forehead. Being the first time mom that I was, I took her to the emergency room to be checked out. She was fine. Mom; not so much. While there, this precious little soul took her two tiny little hands and cupped them on my cheeks, grinned, and started me right in the eyes. It was as if she was trying to say, "mom, I am okay." Jenna always seemed beyond her age, and that day, she consoled me. And I believe that she is still consoling me; through little 'signs' I receive. She is my child and very much a part of who I am. My greatest achievements in life are being a mother to both Jenna and Kelley. While being a mother to each of them is very different; it is truly an honor and a blessing; and as I continue on my life's journey, I know that both of my girls will be with me each step of the way.

​Jenna, we all love you and miss you. Not just today, but every day. You are in our hearts forever.

January 2016-Throughout the years since Jenna's passing I have found myself surrounded by those who love her, and never even knew her. Their hearts ache for her loss, and still, they never even knew her. It makes me realize that even far beyond our deaths, our lives will continue to have an impact. So many families have been faced with loss like ours. So many have reached out for help and then in turn paid it forward. I am grateful to have been one of those people. Jenna continues to direct my life in ways I never thought and through each of kindness, I can feel her smiling down on us.

January 2015-I realized recently that I do not do the things I do because Jenna died. I do them because she lived. It is amazing how one person can dramatically change the direction of a person's life. Jenna did that the day she made me a mother and every day we had after that. She has made me a better mother to Kelley and she has made me a appreciate the gift of life. So today I will remember my sweet angel, and tomorrow and the days after that I will live...in the way that Jenna wanted. Jenna we miss you and you are always in our hearts.

January 2014-Today on a day when I usually keep to myself and shut the world out, I had to attend a gathering of a most special kind. It was an emotionally moving day and while it was not centered around Jenna's memory, it was centered around love.

On a day that I would like to erase from history, it was truly a day where I felt love, compassion and understanding. I felt Jenna's love working through those around me and I am blessed to have been part of something so special. I also felt her love working through me; enabling me to receive grace on such a difficult day. Thank you Jenna for always leading me in new directions and thank you for being my guardian angel. My life is richer for having had you in it. I would not trade that for anything. I wish you were here always, and in many ways you still are.

January 2013 - It has been 10 years since I last heard the sweet sounds of my precious Jenna's voice and felt the warmth of her hugs and small hands in mine. It is hard to believe that a decade has passed but then I look back on these ten years and see all that has changed in my life. Most of it was driven by the loss of Jenna, but in that were positive and good things.

I would give anything to have Jenna here with us and be able to raise both of my girls together. I know that will never be. I also know that I have the gift of appreciating life and nothing can diminish just how much I appreciate the "living" I have left to do! I thank Jenna often for that. She taught me how to recognize and be more aware of just exactly what I have and what I still have yet to do.

I know that most people are super busy these days and often burdened with daily life. I too am guilty of doing that, but then I think of Jenna and I am reminded that we only have one life to live on this earth and while I am here I am going to try to honor Jenna's life as best I can by making each day count!

Thank you everyone who has continued to remember our precious little girl. Our hearts are uplifted whenever someone tells us they have been thinking of her.
---
---
January - 2012

I find my thoughts scattered this year. Jenna is such a part of my every day life; especially because of the work I do. She's thought of often and her name is mentioned regularly in our lives. Others let us know that they are still remembering our precious little girl and that is really what keeps my heart from falling to pieces on difficult days like this. I can vividly recall the telephone call I received at work that day, the sound of person's voice on the other end of the phone, the frantic trip to the hospital saying "I don't know what I would do if something happens to her" as if in denial over what really happened. I can recall the 30+ hours we spent in the PICU at St. Joe's, hoping and praying that she would wake up, even after they told us there was no hope. I remember the looks on Father Charlie and Father Jim's faces as they were walking down the hall to see us. I remember how final it felt on the day of Jenna's funeral as we began walking up the stairs to St. Catherine's and how I completely lost all control of my tears. As scattered as my thoughts may be, and as much as most of those memories are heartbreaking ones; there are so many more memories that we have of the beautiful child Jenna was and the joy she brought to our lives. Even with days like this overshadowing joy, one thing that stands out for me is that I know we loved Jenna and Jenna loved us. That kind of love remains in your heart forever and someday, after a long, good life, I hope to see her again...
January - 2011

This year Jenna's anniversary falls on 1/11/11. For some reason this date stands out for me as it is something I will only experience once in my lifetime. I realize now that my grief has so many layers to it. I think I expected by now that my heart would be completely mended, but I have found that the wound seems to open up when least expected. One thing I have realized is that my sorrow is a large part of me and who I am. I am no longer defined by it, nor am I ruled by it. Instead it fuels my fire and keeps me moving forward in all that I do. It is because of Jenna that I can help others when they need compassion and empathy most. I have learned to have more patience in life and keep an open mind and heart. She and Kelley are truly my life's greatest gifts.
January - 2010

Seven years. I seem to say each year that passes....wow...I can't believe it's been this long. In reality it feels like a lifetime, in my heart it feels like yesterday and probably always will. Losing a precious gift like Jenna is something most parents cannot even dream is possible, yet families are faced with this unthinkable tragedy every day. I admire the strength of the parents, grandparents, aunts, uncles and loved ones that I have met over the past seven years. Strength comes in many forms......even in tears. I am blessed to have been able to share Jenna with the world, but mostly I am thankful to have had this beautiful shining star, even if it was only for a brief moment in time. Her smile, her joy, her blue eyes and little button nose are all embeded in my memory and her love is always in my heart. We never forget, we always remember, we live each day to honor her. We love you sweet little girl.

January - 2009

Another year has gone by. This past year saw the loss of a most precious woman, Jenna's Grand Aunt Lorri. Lorri was an angel on earth and I can only imagine that she is at peace with Jenna looking down on us wondering why we are so sad. The pain in my heart still exists, but is not apparent most of the time. It is carefully tucked away only making it presence known when days like her anniversary are at hand. Something has changed over time though. We know we can truly appreciate and enjoy life and be happy. That feeling comes from within; from a place I thought was lost with Jenna's passing. Our lives are constantly changing and moving forward. Knowing that Jenna and Lorri are helping us along in that process brings me peace and comfort. Remember Jenna always. Share you love and take with you the knowledge that life can change in an instant. Never take one moment for granted. Love one another.....always.
January - 2008

Five years have come and gone; five years since Jenna left this earth. It seems like such a long time and I can't even begin to find the words to express how it feels. A lifetime ago; a moment in time; a burden that has been molded into every part of my being; nothing really fits. Quite a few things have changed but the one thing I notice most is that we are enjoying life again. Everything I do is overshadowed by what is missing. But the shadows cast are not as dark as they used to be and the light shining through has shown me joy and happiness that I never thought I would ever feel again. It is a genuine happiness. Life has brought us so many twists and turns since Jenna became an angel. We are witness to the daily blessings of her sister whom I love in ways I couldn't possibly imagine. Nothing is a "given" anymore. Each moment, whether good or bad, is noticed and not one thing is taken for granted. While we have been blessed in so many ways, we have had struggles too. Everything is taken in stride; not for one day at a time, but instead one moment at a time. My heart has mended some, but there is a scar there that will remain forever and it will carry the pain and the love I have for my Jenna. My dear sweet girl who will live in my heart always.
January - 2007

On January 11, 2007, it will be four years since our little Jenna has passed. Despite our great sadness, our lives have somehow managed to continue on. Not a day goes by where Jenna isn't remembered or loved. When you have a child your life changes drastically. When that child dies it completely changes again. You really have to learn how to live all over again. During Jenna's short life she taught me so many things. Now in death, she is still teaching me. My life lessons may have changed, but the growing process is still there. Isn't that what we do all of our lives? We grow; we learn; we love. During my grief journey I have encountered some of the biggest hearts in the world. It is amazing what people do in honor of Jenna or in her memory. People want to do nice things for her. That shows me that my little girl is still making a difference in this world and it lifts my heart to know that. While our journey of grief will never end, these days the road seems easier to travel. While we try not to think that far into the future, Kelley gives us so much to look forward to on the road ahead. She makes every step of this journey a little brighter than the last. Jenna is never far from my heart and she is with me wherever I go. She helps me to live, love and laugh every day. Thank you Jenna for being one of the most precious souls I will ever know. Thank you for blessing me with your love. You are one of life's most treasured gifts. From the bottom of my heart, I would like to thank you for remembering my precious little Jenna.

In My Daughter's Eyes is a song I chose because it fits so beautifully with how I feel about both of my girls. They are my source of love and inspiration.