Remembering Grand Aunt Lorri-3/11/40~10/11/2008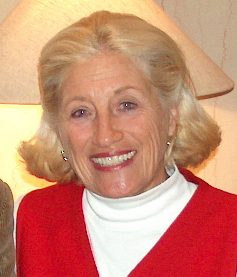 Read at Aunt Lorri's Memorial Mass:

When someone we love dearly passes away, we are left with sorrow, emptiness and an unending ache and need to have them here with us In those times of great sadness I only need to hink bak on the life of a great woman; my Aunt Lorri. A dear sister, an aunt, a good friend, a mentor, a teacher; she was all of these. Lorri had a passion for seeing people succeed in achieving their dreams and goals no matter how big or small.

Lorri set the example of how to live and celebrate life to its fullest. Not even her illness could keep her from setting new goals, tackling them head on, and meeting everyone with the grace and determination that only Lorri could bring.

What a blessing to have had this "angel on earth" in our lives. Just being near Lorri you could feel the energy of the light within her carrying her through her days. My hope is that we never let that beautiful light fade. Carry her light with you always. Let it brighten your darkness and let it carry you through your tears. In good times let it be the light guiding you forward. Let her light inspire you to do things you never thought you could do.

When my daughter Kelley and I visited Lorri earlier this year (July 2008) she gave me a page of quotes and one in particular seemed to describe her perfectly. It is by Ralph Emerson who said "What lies behind us and what lies before us are tiny matters compared to what lies within us."

That statement speaks volumes to the life that Lorri lived. Take her love and share it. Share it with as many people you can. Celebrate life as she would have wanted you to do and love like there is no tomorrow. Lorri never gave up on life and the good and beauty in this world. Let her be your inspiration as I know she has always been mine.

Our family has lost a bright light, but it will never be extinguished. It will always be shining bright in the hearts of those that love her.

Please take a moment to share your favorite memories about Lorri by using her Guestbook which can be found below the photograph section below. Thank you.
---
---