​Remembering Jenna on her birthday-August 17th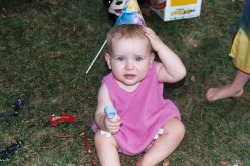 2017-When you lose someone, there is always that "mourning period" when a bereaved person is expected to work through their grief. And when that has been achieved I think the world's expectation is that you go back to being 'normal'. What I think most people miss, is that when you have lost a child you not only mourn the loss of the individual, you also mourn the loss of all those hopes and dreams you had for that child.
Let's face it, we all do it. When our children are born, we envision things like their first day of school, graduations, first loves, growing into brilliant-minded adults, marriage, and even grandchildren. We plan for their future. But when your child dies, the rest of your life is spent wondering what those moments would have been like.
Today, I am faced with one of those moments, Jenna's "Sweet Sixteen". And rather than planning for family and friends to come celebrate with us, my husband, my daughter and I are taking balloons and flowers to the cemetery. Days like these physically hurt my heart. Kind words from family and friends helps tremendously, but still the pain exists.
I truly believe that through every act of kindness we do, she is still making her impact on this world. To continue her legacy, we try to find ways to make a difference for someone in memory of Jenna. It is in doing these acts of kindness that we find comfort.
We miss our beautiful little Jenna tremendously. We always will. That is simply how it is when you are the parents of an angel. And while we always wish we had more time, we are forever grateful for the time we did have together.

​2016-Oh dear sweet Jenna. For some reason that last day taking you into daycare has been on my mind lately. I still hear your little voice in the car on the way there exclaiming, "nome..mama...nome" because it has snowed the night before. I also remember you talking with your caregiver saying, "ma ma" over and over again, pointing at me, until she acknowledged what you were telling her. I remember how I felt that moment leaving you. I was heartbroken to leave, but proud that you were saying to the world, "hey that's my mom!". I love you with all my heart, and I know that you loved me with all yours. I remember a few months before you died, you had fallen and hit your head. Being the "first time mom" I took you to the emergency room. You were FINE, but mommy was not. And as I held you in my arms, you cupped my cheeks in your hands and stared into my eyes as if to say, "it's okay." I try to keep that memory in my head when times get tough.

Jenna, you are terribly missed, and so very loved. And yes, Jenna, mommy is okay. She just misses you more than words can say. Happy birthday wherever you are. I hope that you are hopping around like Roo, dancing to beautiful music, and being the silly little girl you were when you were here.

2015-My little beauty. Where has the time gone. It is hard for me to imagine you being 14 years old. I imagine you being a fun loving girl with a great sense of humor. I imagine all the things that you would be doing and then it hits me...I will never get to experience that with you and the loss of those moments cuts like a knife. You are and will forever be my baby. How I wish you were here.
---
---
2014-
The teenage years. We should be celebrating the first of the teen years this year. Instead I am dreaming of what should be and heartbroken all over again. It is hard at this point to even fathom what life would be like if Jenna were still here. Yet her absence still takes its toll. Jenna wherever you are and whatever you are doing, know that you are loved always; never forgotten and very much a part of my world still.
I love you. Mommy.
---
2013- Jenna's 12 today! That is what my Facebook status should read. That is what our family should be celebrating. Instead, it is Jenna would have been twelve today...and we celebrate her in a much different way.

My heart hasn't forgotten and it never will. Through sadness there is love and it carries me as I navigate my way in life as a parent who lost a child.
Jenna my love...mama loves you and always will.

---
2012-I know it may seem strange to think that today we celebrate; but we do. Although our hearts ache, we celebrate the good things that Jenna has brought to our lives. Not just while she was here on this earth, but also what we have accomplished since she died. Jenna has 'directed' so many directions and paths taken and we can only be thankful for that.

So today we will celebrate. We will honor a remarkable child who continues to live through us in everything we do. Jenna we love you and we miss you. How we wish you were here with us. Happy Birthday in Heaven sweet little one. - Love Mommy, Daddy & Kelley.
---
2011-Happy birthday dear sweet Jenna. This is such a large milestone for any young person. You would have been ten years old this year. My mind wanders as I try to imagine all things you would be doing and the kind of young lady you would be turning into. How I wish you were here with us; especially for Kelley who, at times, tells me that she misses you even though she never really knew you.


I look back and still see all the birthdays, holidays, and special days we've missed. I look forward and see all the moments never to be. College, a white dress, a grandbaby bouncing on my knee...Jenna, your spirit is with me always, guiding me along my path. I listen to hear your voice in the wind and feel your love in the sunshine. You are forever my child living in my heart, filling it with love. You are one of life's greatest gifts and I am thankful each and every day that you are a part of me.

On this "grief journey" I have witnessed the miracle of life and death and how the human spirit can be so broken yet so hopeful. It is through our sorrow that we learn to hope again. Hope for love; hope for future moments of happiness; hope for peace. In all that hope there is also reflection on the past and all that should be.

Think of Jenna often and also remember those who have gone before us, never forget the love and joy that they brought to our lives. Live in that love and joy and share it with those around you. Always. -Lorri (Jenna's mommy)